When it comes to SaaS pricing models, there are a few things that impact revenue quite like the pricing. That's why many SaaS startups allocate at least six hours a day to define, test, and optimize their pricing strategy. With an overwhelming number of pricing models available, knowing where to start is almost impossible. However, know that of all these strategies, no other pricing model comes close to the effectiveness of usage-based billing. It's currently the trendiest pricing tactic that most SaaS companies are incorporating to their framework. This article will serve as an introduction for people who are unfamiliar with this billing strategy.
Usage-Based Billing for SaaS
Also known as metered billing, usage-based billing is the latest of the vast set of billing models. But what's it all about and what can it offer to your SaaS company? In the simplest explanation, usage-based billing is a method that allows you to track how much each of your customers "use" your product or service. Doing so will allow you to create a dynamic bill for each customer based on their usage rate.
While its concept may be general and straightforward, there are actually different types of usage-based billing models. For you to know which one suits best to your SaaS, you will need to get familiar with each one. Here are some excellent examples of Usage-based billing in areas of a person's life that you may be familiar with.
1. Usage Tracking and Metering at Home
When you want to wash your hands, you will go over a sink and turn on the faucet. The moment you do this; your water meter will start tracking. By the end of the month, the water company will bill you based on the usage data displayed on your water meter. The entire process is effortless, convenient, and makes a lot of sense for both you and the water company.
This example gets to the core of usage-based billing. Instead of a fixed price, pricing and payments are based on the usage data, which is both fair and reasonable. Many SaaS companies didn't have access to metering tools required to implement usage-based billing until now.
2. Ridesharing
Imagine yourself in the eyes of an Uber or Lyft customer. The moment people ride in their cabs to their destination, the ridesharing app will conveniently start tracking the distance and duration of their trips. Customers will only pay when they catch a ride somewhere. Similarly, customers are expecting the same convenience from SaaS. Right now, firms are starting to shift from a one-time fixed monthly subscription to usage-based billing since it's a more convenient and reasonable approach. This constant shift in the new billing paradigm will eventually eclipse the long-time framework of fixed subscription billing.
Challenges of Usage-Based Billing for SaaS Companies
No SaaS billing methods come without its own set of flaws, and usage-based billing also has its share of challenges. For one, multiple companies are having a hard time responding to the customer demand for this type of billing model. Apart from that, here are some of the most common challenges of usage-based billing:
High Costs of Both Time and Resources
Creating a usage-based billing system requires time and a consistent flow of money. It also involves reevaluating how and where your company offers value. At the same time, each billing solution requires you to think about and build things like the following:
Automation
Authorization
Collections
Chargebacks
Customer Communication
Dunning
Recursion
Because of these reasons, the high opportunity cost for building a usage-based billing system revolves around ongoing resources and development time.
How will you react when a customer decides to change their billing cycle before the end of the month? Making assumptions and anticipating customer changes ahead of time are crucial when it comes to billing. For SaaS companies, it can take developers weeks – or even months – to track usage data and come up with the appropriate bill for it. That's why these companies are also in need of a one-time backend billing platform that decreases development time and helps companies launch and monitor their billing more quickly. In turn, they can focus more on their core value and not on billing system updates.
Every SaaS Features a Unique Billing Need
Know that every SaaS business is different. They have a unique framework that functions differently from one another and demands a pricing method that complements its process. That's why there isn't a "one-shoe-fits-all" type of usage-billing. For you to come up with the right system, you'll need to assess your business from top to bottom and figure out a way to integrate this new and effective billing model. This phase will take around weeks, or even months, to finalize.
Google Examples of Usage-Based Billing
Music-streaming companies – this type of SaaS will charge you for a flat rate while tracking the number of times you listened to a song or the downloads you made.
Movie-streaming companies – this type of SaaS charges you a monthly subscription, but can also track the number of devices that are used to access their movie-streaming services.
Telecom companies – on top of your monthly bill for their service, they will also track the number of text messages that you've sent in relation to a particular plan limit.
Benefits and Advantages of Usage-Based Billing
Beyond the challenges that were mentioned previously, usage-based billing for SaaS companies has become increasingly important and relevant. Here are some notable advantages that they provide:
Usage-based billing increases revenue.
According to Zuora, usage-based pricing is a useful tool for growing your business and maximizing its potential. In a recent study, it was found that subscription companies that integrated a small amount of usage-based billing in their revenue grew more than twice as fast on average compared to companies that didn't employ any usage-based billing at all.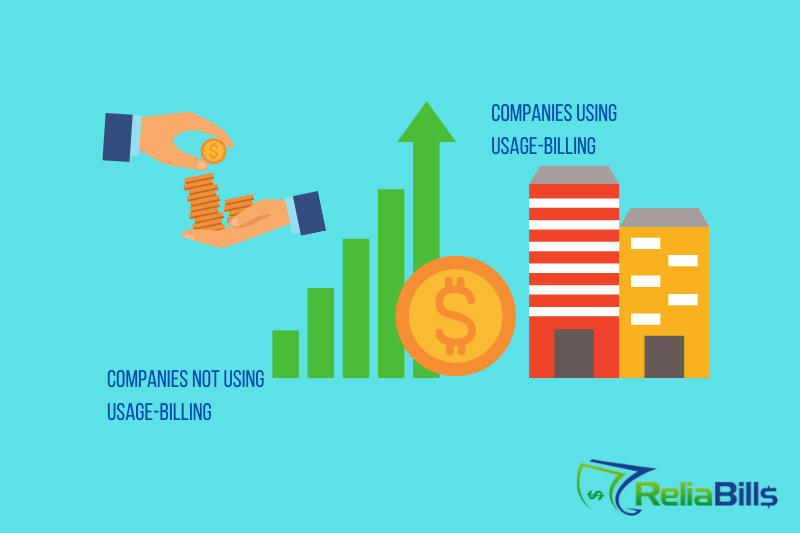 Consumers Love It!
Apart from it being an effective billing method, there's no doubt that people love the concept of being billed according to the number of times they use a particular service or product. This method is all about fairness, transparency, and value. That alone is more than enough reason to make the transition to usage-based billing a necessity. So, if it makes sense for you and your SaaS company, you should consider usage-based billing.
How Does Usage-Billing Platform Help SaaS?
While setup can be hard and challenging, a SaaS that adopts to usage-based billing will eventually save time, maintenance, resources, and even generate additional revenue. On top of that, they will also serve their customers in the manner that they expect. By using a usage-based billing platform, you will achieve the following:
Reduced development time and integration – setup will be ready in days instead of months.
Focus more on your offers and customers while the platform manages your billing on the backend.
Isolate pricing from your codebase and promote flexibility to change pricing quickly.
Customize and test pricing in real-time without giving your development team a hard time.
Track items that point towards customer activity and view that data in real-time.
With a usage-based billing platform in place, you can configure your billing system and turn it into something that centers around usage data. It's incredibly easier to work than building a traditional billing and payment system. All you need is to outline what items you need to track, and it does the rest. Pricing, payment processing, collections, invoices, customer communication, revenue optimization, and reporting are all in one system. Now that's convenience!
How ReliaBills Complements This Type of Billing
Usage-based billing is an excellent option for SaaS companies. When you pair any usage-based billing platform with ReliaBills, you can guarantee that your customers will pay you accordingly and on time. Your usage-based billing system will calculate the charges for every instance that a consumer uses your product or service. ReliaBills will then create a comprehensive and detailed invoice and send it to your respective customers. That way, you will get paid without delays. For more information about how ReliaBills complements usage-based billing, send us an email at sales@reliabills.com or give us a call.
How Our Recurring Billing Helps your Business
Another way to amplify your business's earning potential is by implementing recurring billing in addition to usage-based billing. As mentioned earlier, your usage-based billing system will calculate the charges every time your customer uses your product or service. You can then bill them automatically with a recurring billing software like ReliaBills.
Create a stunning invoice, schedule the date and time to send it to your customer, and wait for ReliaBills to do the rest. You can even set it recurring if you're billing your customers the same amount every billing cycle. That way, you won't have to worry a bit about invoicing again.
If you want to grow your business, you need to acquire as many customers as you can. With ReliaBills and its ever-reliable recurring billing feature, you can do just that and more!
Automate Your Invoice
With 'automated invoice creation,' you can create and send your invoice in an instant. You can save a lot of time doing other essential things for your business while recurring billing is working in the background.
Have Customers Pay Their Dues Automatically
At the end of the day, getting paid is the number one goal. Make sure you won't have to worry about getting payment from your customers by enrolling them in AutoPay. With ReliaBills, you get access to automated variable payments. That means you can collect customer payment automatically without skipping a beat! You can even make changes to the payment amount whenever you want.
Design Your Invoice Specifically for Recurring Payments
If you're billing your customers the same amount every payment cycle, you can make your life easier by creating invoices that are designed for recurring. That way, you can send the same invoice and not worry about creating one manually every payment cycle. You can even edit your invoice in case of any details that you need to change, like the number of customer details.
Get Paid Even If Payment Fails
Automated payments tend to fail once in a while. Fortunately, ReliaBills already saw this coming. That's why our system is programmed to automatically notify your customers whenever their payment fails. That way, they can make the necessary changes right away. ReliaBills even goes the distance by re-attempting failed charges depending on the reason for failure.
Customer Portal
Increase your customer base by saving and securing their payment information. The more convenient it is for your clients to settle balances and make payments on your platform, the longer they stay. At the same time, your customer base will also grow as more people find your payment processing easy and convenient.
Does Your Business Need Recurring Billing?
The decision is simple. If your business bills customers regularly, then recurring billing is an excellent addition to your billing process. No doubt, automating your entire billing strategy will make it more convenient for you and your customers. So do everyone a huge favor by embracing the present and future of billing by trying ReliaBills and its outstanding recurring billing system.
With our recurring billing feature, there's no stopping you from getting paid on time. For more information about how ReliaBills complements usage-based billing, send us an email at sales@reliabills.com or give us a call.
Related Articles: